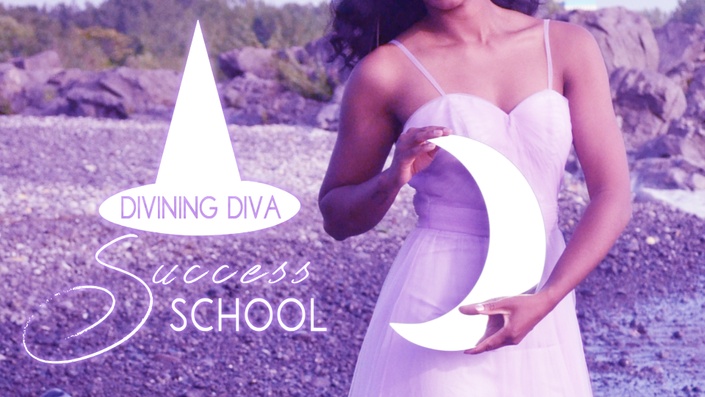 Divining Diva Level 1
The Boss Witch's guide to tarot, oracle cards, pendulum dousing, automatic writing and more!
Did you know that following the path of your Highest Calling can be fun (and super easy) when you have a fool-proof system for getting every answer you need in life?
You're so done with obsessing over pros and cons lists or getting stuck in analysis paralysis every time you have a big decision to make…
But you are committed to manifesting amazing things, so you don't wanna make the wrong decisions and end up regretting it later.
Your inherent wisdom comes from within, but sometimes, even the best witches need a set of powerful divination tools to make every decision a no-brainer!
You've had a big spiritual awakening, and you're in awe of all the amazing things you're learning about the Universe, energy and intuition, and you are so anxious for your next epiphany that will lead you even deeper into your new sense of truth…
But with a billion books, Youtube videos and Pinterest articles about spirituality and self-development, you're kind of starting to get information overload!
Every day, there's another astrologer telling you what planets are in retrograde, and whether or not you should sign contracts, start new projects, or text your ex back in the midst of the current cosmic transits…
You can't seem to decide whether to delve deep into that witchcraft book and learn spells to get a raise at work, or to give away all your material possessions and devote yourself to meditating and scrubbing floors in an ashram somewhere…
There is so much possibility and promise behind every door that either you're feeling scattered trying to learn every spiritual modality at once… or analysis paralysis has got you in a tailspin!
Well, what if I told you there's an easier way?
Imagine waking up every day KNOWING you are on the right path, because you know exactly how to turn inward and receive answers from your own Higher Self.
You never have to worry about making the "wrong decision" because you have a sure fire way of discovering what your Soul is guiding you to do in every single situation.
When you're presented with an opportunity, you aren't stuck wondering if the butterflies in your tummy are your Intuition telling you it's not right for you, or just your Ego trying to scare you out of expanding beyond your comfort zone.
And best of all, you're manifesting the most amazing miracles and synchronisities because every decision you make is directly in alignment with your Highest Purpose in this life.
Rather than feeling like you're being pulled in a million different directions at once, you're in a graceful, exciting flow of learning to trust in the Universe, and trust in Yourself!

You are meant to pioneer this exciting age of evolution and expansion.
… And unlike years ago when spiritual seekers had to figure it all out on their own, you get to raise your vibe IN STYLE!
I feel you, because I was right there where you are!
Back in the day, I was a total spiritual scatterbrain!
I was one of those people who "woke up" to their intuition circa 2012, a time when a ton of gurus and woo-woo people were throwing around words like "universe," "new earth," and "vibration" like nobody's business! Everywhere I turned, somebody else was trying to tell me what I should and shouldn't do to achieve "enlightenment," and I was OVERWHELMED!
I had this deep sense of "knowing" that ideas, lessons and situations were happening in a synchronistic way to help me align with my true purpose, but my head was spinning between all the different fascinating spiritual/self development practices I was hearing about.
And the worst part was that I was new to the #adulting life, and needed to also have the good sense to create a stable life for myself and my three fur babies! I found myself constantly feeling at odds with the world, even though I seemed to be more aligned with my spiritual side than ever!
Deciding between what seemed "practical" and what felt spiritually enlightening was a constant struggle, and in spite of feeling divinely guided, I had no real sense of direction.
Just when I was starting to feel like something had to give, a complete miracle happened… in a very ironic turn of events!
I happened upon a Tarot deck and a book about the law of attraction on the same day, and my life was never the same again!
Since learning how to manifest my highest desires with the help of the powerful tool of Tarot, I've done nothing but get more and more aligned with my true sense of purpose and fulfillment!
I manifested my dream career, my dream home, a wonderful partner, and the most high vibe friends, clients and mentors, all by digging deep into self-development with the Tarot as my energetic compass!
The best part is that I've learned so much about myself that making decisions is as easy as pie! I simply ask my Higher Self to show me through the cards what my ideal path is in any given situation, and I'm on my way forward with ease and excitement!
And now, it's your turn! I knew I had to share this amazing life hack with other spiritual seekers who were struggling with the same things I've overcome. I wanted to share with everyone the tools and wisdom I'd picked up in my years of learning about Tarot cards and pendulums and how to program the subconscious mind to attract the ideal lifestyle.
Now, as Tarot reader for self-development and a career and lifestyle coach, I've made it my mission to create a simple technique to get you un-stuck and on track to be who you were born to be!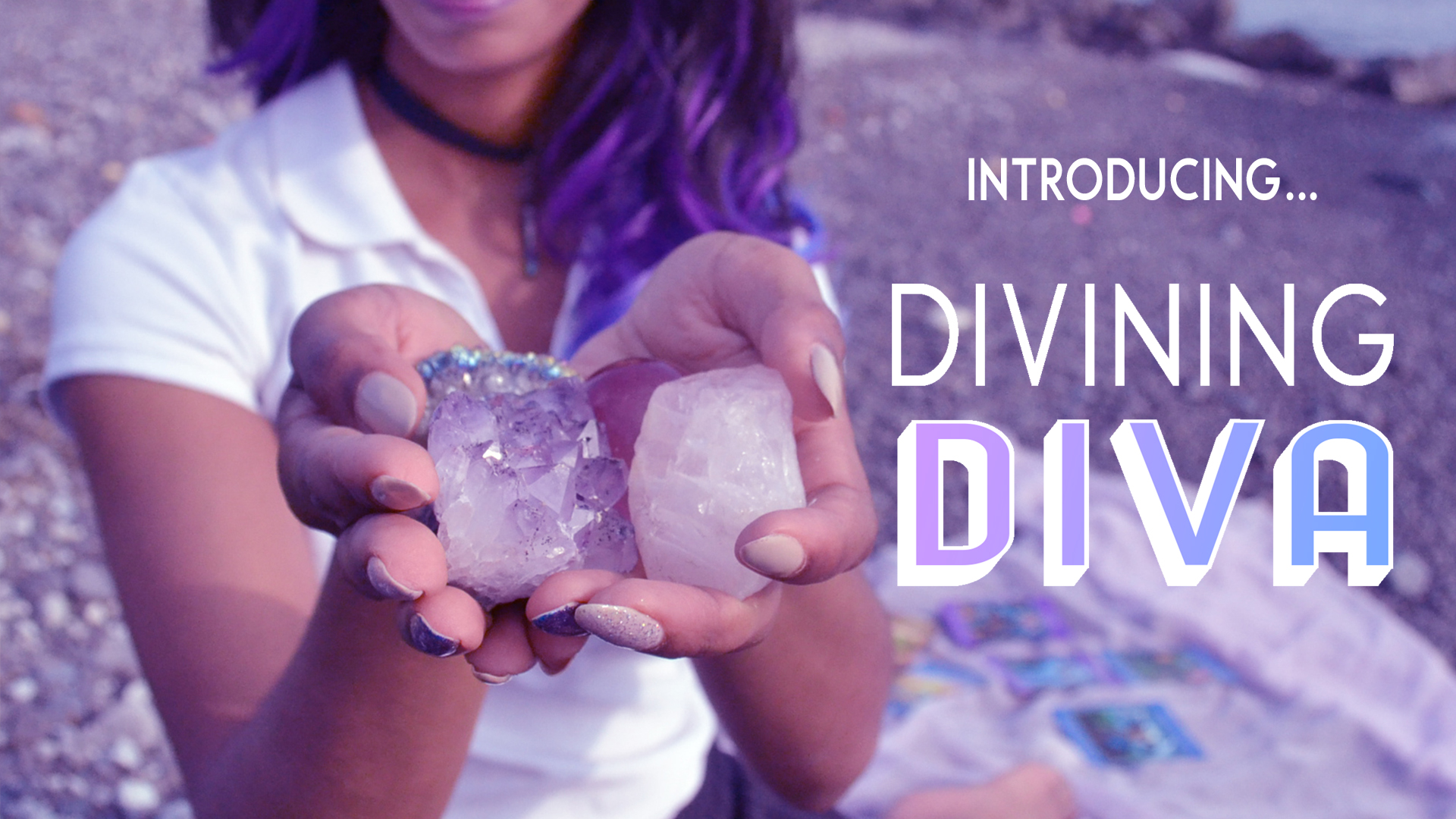 Your 24 Week Program to Align with Your Soul's Highest Path
You're ready to stop leaking your energy out in every direction, so you can streamline your passion to get results. You long to know thyself on a deep level. It's time to head directly toward of your Highest Path!
You're here to create a positive impact in this world by living as your best self every single day, and my Divining Diva program is your resource for upleveling your self-love, self-care and self-development with grace, flow, ease and excitement!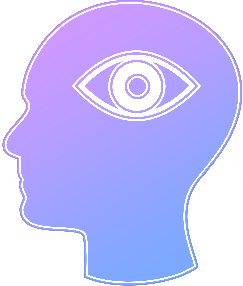 Here's What This Program Includes...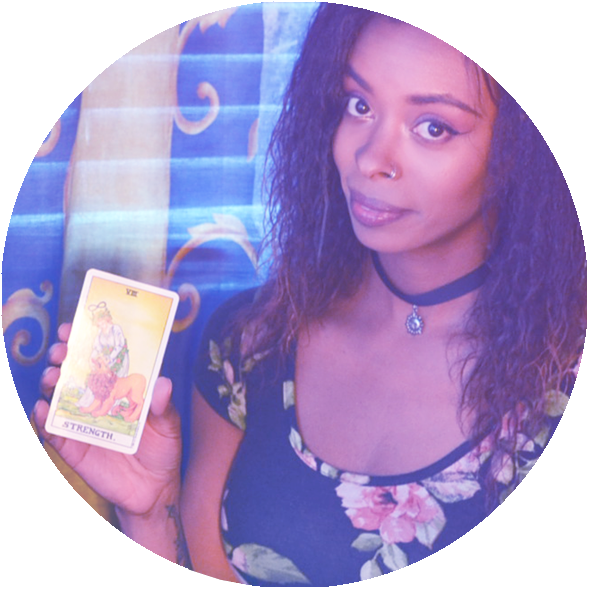 Guided Support To Learn At Your Own Pace
Get ready to unlock your hidden potential, get to know yourself on a deep level, and get ultra clear on your highest desires, hidden fears and unconscious patterns so that you are empowered to rise above where you've been and step into the shoes of your Ideal Future Self… You know, that version of you who has taken her life from mundane to magickal, and is showing up in the world as an inspiring beacon of light to everyone in her path!
… This program will help you become THAT version of yourself.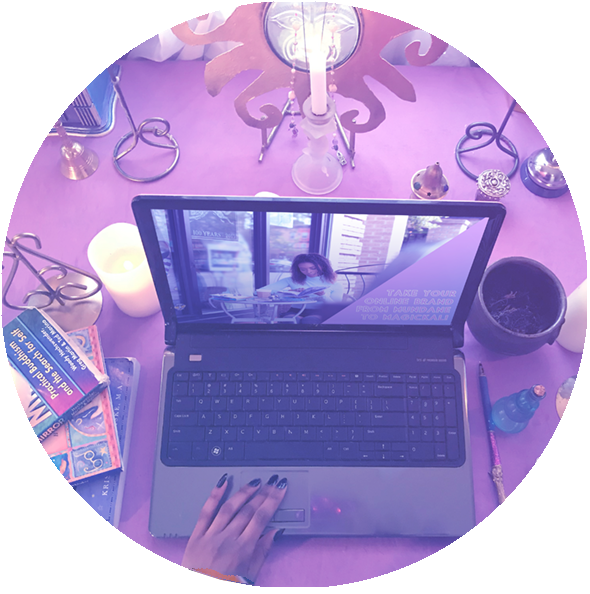 24 Powerful Modules
Each week, I'll release a new training module to help you unlock the wisdom of the Tarot using your own inner guidance system. You'll learn about the powerful ways you can use your Tarot deck to take your inner and outer world to new levels of fulfillment, and will step into the transformative energy of each of the 22 cards of the Major Arcana. We'll have the seemingly scattered pieces of your life interconnecting into a complete package of personal power in no time!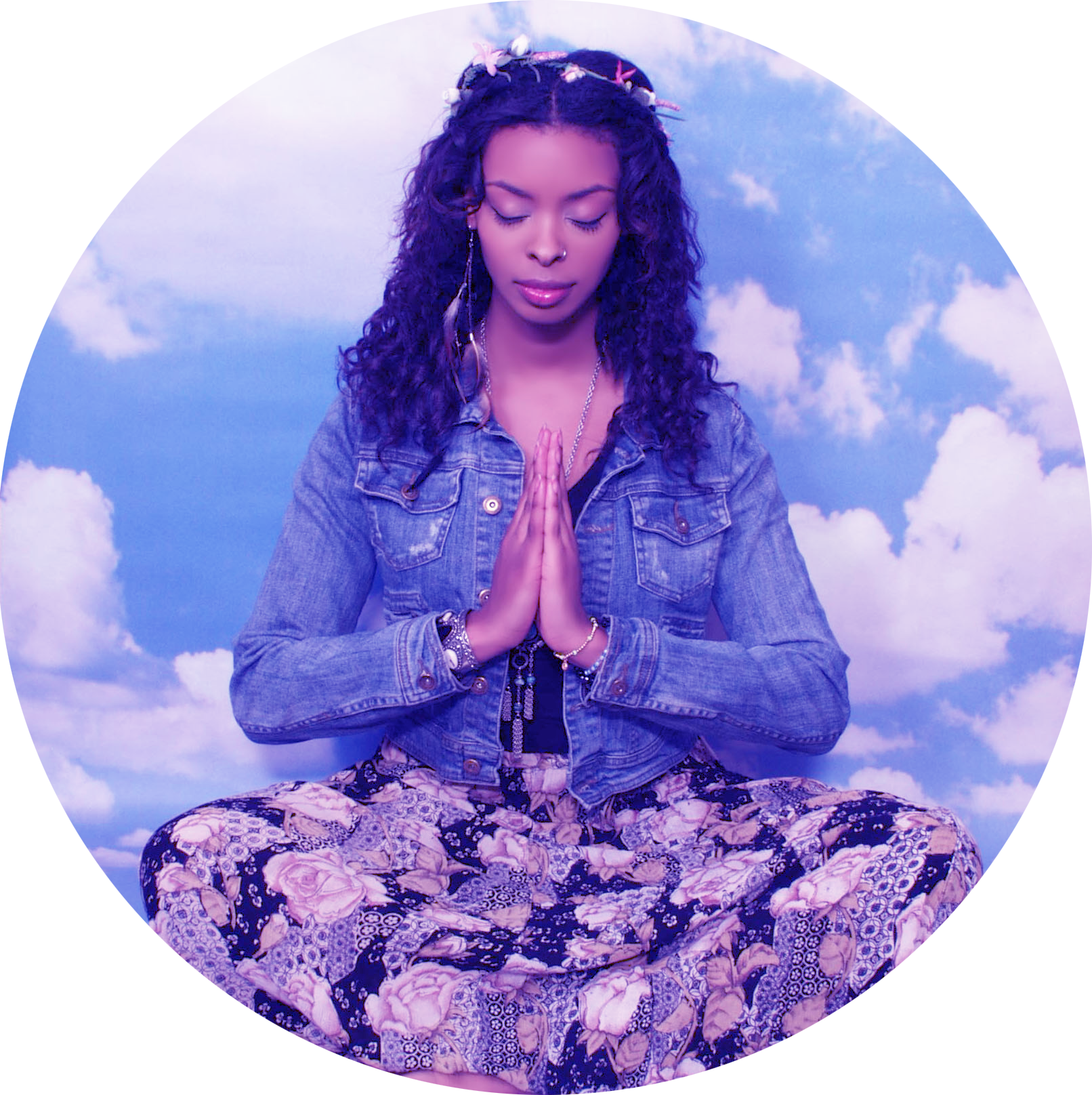 Guided Meditations
To know thyself and manifest your highest vision for your life, it is crucial that you learn to ground and center your energy, and to seek answers from within yourself. I've created a library of guided meditations to take the guess work out of your self-betterment rituals!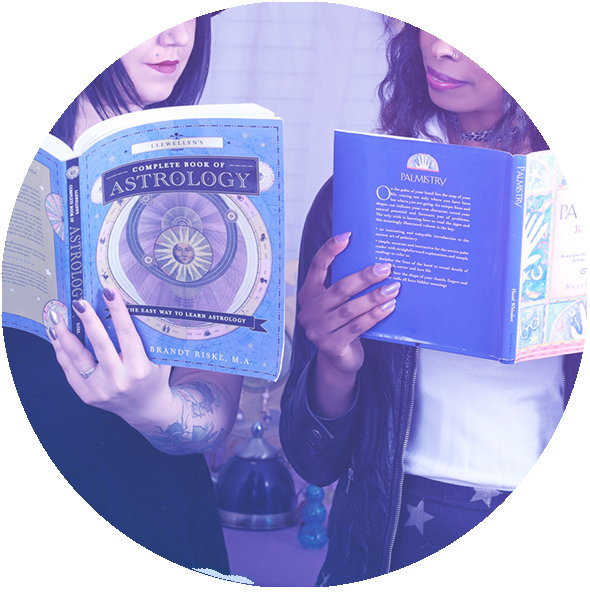 Private Facebook Group
Time to stop going it alone and meet your spiritual BFFs! This group is your place to bond with other like-minded souls and get individual feedback from me on any questions or insights that may come up for you each week!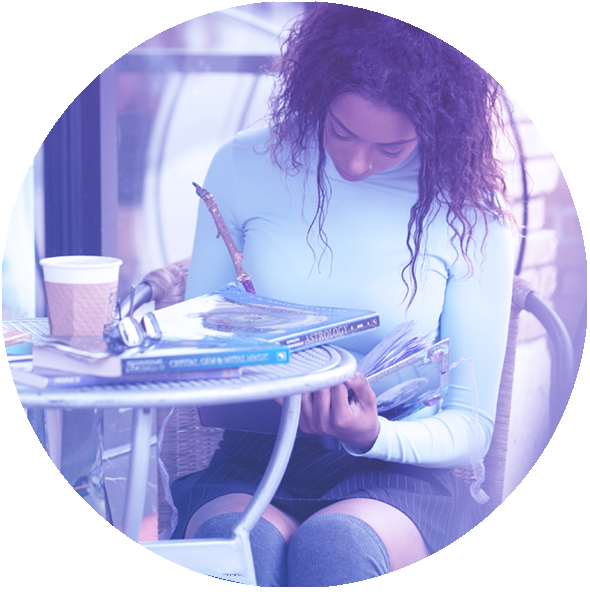 Downloadable Workbooks To Channel Your Epiphanies
You will recieve workbooks galore to help you solidify the wisdom of the Tarot and of your own Higher Self as we move through this process. Type your thoughts right into the files, or print them out to scribble down your breakthroughs the old fashioned way!
…And ka-blam!

You have all the tools and daily practices you need to be your own spiritual guru!
Yup! You read that right! In just 24 weeks, you will be fully equipped to tap into the depth of your being and emerge with the answers to LIFE on the daily! How flipping cool is that?! You can have this!
In fact, you were born for this!
What will your life look like after Divining Diva Success School Level 1?
This program has the power to completely change your life, IF you fully implement each of the lessons and put your heart and soul into the practices!
Here's what's possible for you when you go all in:
You will have a deep, genuine and confident connection to your Inner Guidance System >>> No more feeling lost, or like you don't know who you are.
You'll be making sharp, aligned decisions, and feeling fully empowered to choose what is TRULY right for you and your soul's journey! >>> Say goodbye to analysis paralysis!
You'll be fully equipped with all the tools, practices and insights you need to rise above old blockages >>> No more running on old BS (belief systems) that no longer serve you as who you are at this evolved phase of your journey.
You'll have the conviction to do what makes your soul sing, rather than taking too much stock in other people's unsolicited opinions >>> your Higher Self will be running the show!
You'll find your footing along your Highest Path, and will begin to experience miracles, synchronisities and opportunites that put you in direct alignment with what you incarnated on Earth to do! >>> You'll be leading by example and making an impact by inspiring others to do their inner work to shine bright like a diamond!

Well, fine! Don't take my word for it… Here's what my clients are saying: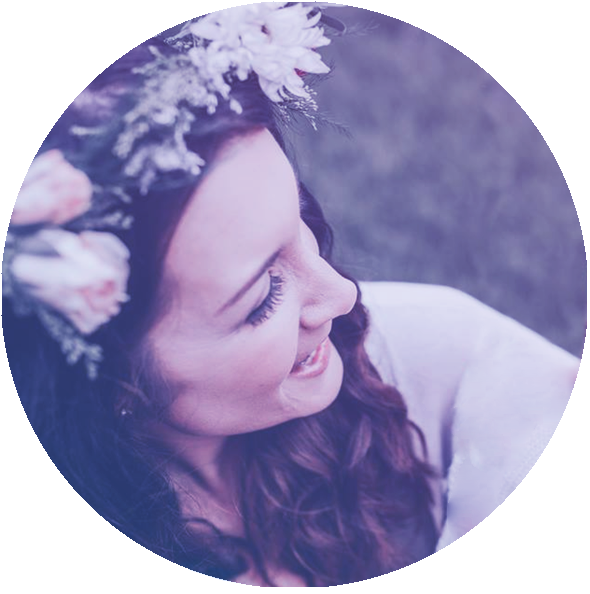 I have been connected to Afura for several years now and consider her wisdom and guidance an instrumental part of my spiritual and personal growth.
My Tarot reading was a key part of my decision to leave a codependent relationship and step into my own power. My trust in her prompted me to sign up for her program. I have connected with kindred spirits and begun a journey to self-fulfillment. My passions would have stayed shelved and dusty for much longer if I didn't have the support and prompts from Afura to believe in and go after my goals. She is truly a magical person. I love her "keep it real" attitude and her suggestions that allow me to bring Magick into my every day life.
-Paradie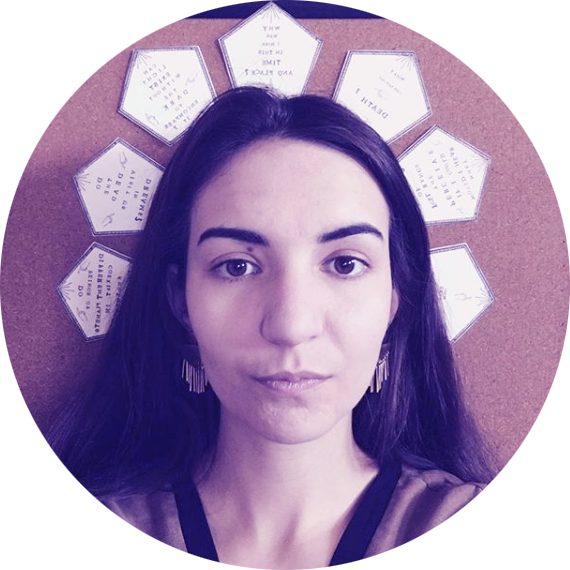 Afura's program provides and holds the space to allow that which we withhold from ourselves: clarity.
She carefully crafts each module to break down each piece of your life in order to bring them into a delicate balance that works for you. The activities and homework are both grounding and spiritual, without forgetting about the real world aligned actions. I was in a strange place in my life – blindly working my tail off for little return. Afura's teachings emphasize the energetic balance and exchange of work and energy while harnessing your creativity as it ebbs and flows. She is dedicated to creating the dream life for seekers that fulfills your dreams and allows you to enjoy life's gifts and luxuries. I'm well on my way to living an intentional and abundant life!
Your Instructor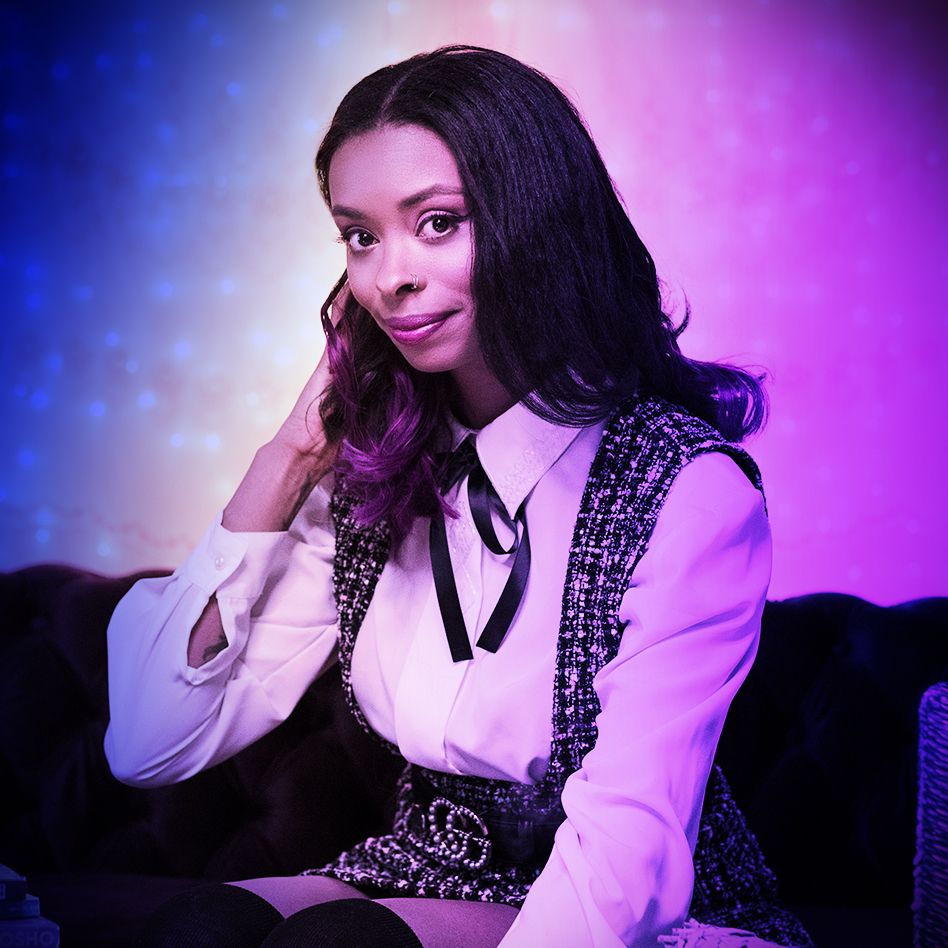 Greetings my friend,
I'm Afura Nefertiti Fareed, the founder of Alchemy Of Affluence Academy, and I'm teaching spirited starlets like you how to use your intuitive gifts along with occult wisdom and divination to manifest your most enchanted life through witchcraft and self-mastery, all with a chalice of brut rosé hand!
…Because I believe your fairytale fantasy is not a pipe dream, but a premonition of the life you're meant to have when you step into your magick!